Decisive leadership, with YouTube
Rally the troops for the recession, with Blackadder, the Fast Show and Spinal Tap.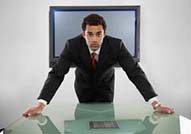 Inspire and equip. Whip your team up for the challenge by oozing self-assurance. A dash of charisma doesn't harm either. Blackadder's Lord Flashheart manages to get a team of young pilots running out of the room to fight, despite having just told them they'll probably last only 20 minutes. Trouble is, he's so gung-ho about the inspiration that he neglects to train them. Get the balance.
Sharpen up. The chips may be down, but it's a great chance to take a look at how you're running things and get rid of the dead weight. If your office is even a little like that of the Fast Show's Fat Sweaty Coppers, now is the time to trim the flab.
Know where you're going. It's never been more important to know exactly what you're selling, to whom and why. Identify your market and have a definite plan how to conquer it. Spinal Tap's Nigel Tufnel shows how not to do it. His band has gone down the tube, and he's talking bullishly about his future direction. But his vague notions of Indonesian folk hardly instil faith for a future number one.