Deliveroo could soon be Britain's newest 'unicorn'
The food delivery start-up has just landed another $100m worth of funding.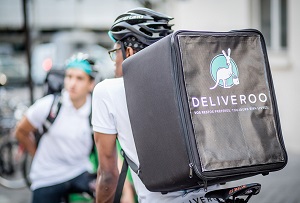 It seems investors are falling over themselves to put cash into Deliveroo, the London-based food delivery start-up that launched in 2013. Less than five months after landing $70m (£46m) of funding, the company has just announced a fresh injection of $100m as it gears up for international growth.
Unlike rivals Just Eat and Hungryhouse (owned by German giant Delivery Hero), Deliveroo runs its own fleet of moped- and bicycle-mounted delivery drivers. That's helped it gain an in with big-name eateries that wouldn't normally offer delivery, such as Wagamama, Nando's and even the Michelin-starred Indian restaurant Trishna.
The premium fare has clearly piqued the interest of well-heeled customers too lazy to go out but with a hankering for something a bit more inspiring than a soggy pizza or chicken chow mein. Deliveroo says daily order numbers have increased 500% this year. It already operates in several cities across Europe and today commenced operations in Melbourne, Sydney, Singapore, Hong Kong and Dubai.