Deloitte is offering staff the chance to be their own boss
The accounting firm has created a £25m startup fund, but will completely own any successful companies.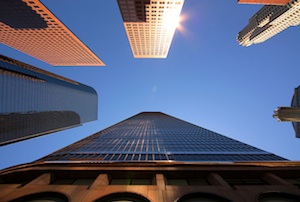 The story of a business executive swapping a corporate climb up the greasy pole for the highs and lows of entrepreneurship is a familiar one. A lot of successful business owners forged their careers in the City or in the bosom of a professional services firm, before the dreariness of the rat race or their oppressive boss convinced them to go it alone.

Now Deloitte is seeking to channel its employees' entrepreneurial ambitions, while hanging on to them and profiting in the process. Today it announced the creation of a £25m fund that will be spent on ideas put forward by employees who want to be their own boss.

Staff on the 'Innovation Investments' scheme will be paid to take time off to launch and work on their startups, and those which show potential will be able to take on employees and potentially further investment.

'We know that an increasing number of people are attracted to the idea of setting up their own business and trying something different,' said chief executive David Sproul. 'We believe this initiative offers a unique opportunity to pursue those entrepreneurial ambitions whilst remaining an employee of Deloitte and benefiting from the strength of our brand, experience and expertise.'

The catch? Deloitte will completely own the businesses, although founders will be rewarded with a performance-related bonus and a share of the profits if the business is sold. Since the plan was announced to employees last month more than 50 have come forward with business ideas.
'Intrapreneurship' isn't a new idea. From 3M to Google and Unilever, large corporations have often sought to tap into their employees' ideas to help them stay ahead of their smaller and more dynamic competitors.

But the £25m price tag makes this an expensive move for Deloitte, whose leaders will hope this will do more than keep a few employees with itchy feet happy. The plan is to use the new businesses to improve their offering to clients and, preumably, to benefit from some profitable exits.
With less at stake and less to gain than independent, self-funded entrepreneurs, participants are likely to be more willing to take risks and perhaps less inclined to give the business their all. Deloitte needs to be careful the scheme doesn't just become a training ground for those who simply want to dip a toe in entrepreneurship before taking the plunge and going it alone.