Denise Kingsmill: Hasty departures create more problems than they solve
The dramatic taking of scalps at the BBC and in the US administration should remind firms of the need for a succession plan.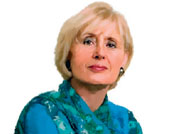 Westminster is often described as a zoo, but escape to the Australian jungle via I'm a Celebrity ... Get Me Out of Here! seems an extreme exit strategy. Nadine Dorries, once a potentially interesting maverick politician, now joins the ranks of the saddos like Lembit Opik, George Galloway and Robert Kilroy-Silk who seek redemption in the treacherous netherworld of the reality TV show.
As yet, we have not had a corporate leader who has chosen this way out, but surely it is only a matter of time, given the clumsiness with which some recent departures have been handled.
The sudden exit of Steven Sinofsky, the man thought most likely to succeed Steve Ballmer as leader of the mighty Microsoft, is a case in point. It seems to be a prime example of a badly handled parting of the ways arising from a clash of alpha male egos at the top.