Denise Kingsmill: Olympics success will not boost the economy by itself
The Olympics may have left a golden glow, but what the UK more urgently needs is a complete rethink of how we do business.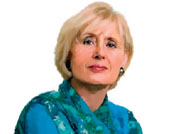 It is remarkable that in the midst of the worst economic conditions since the 1930s we have had a year of official national celebrations in the UK. The enthusiastic expressions of national unity engendered by the Diamond Jubilee street parties and royal walkabouts, followed by the universally acclaimed success of the Olympics, both in terms of British medals won and organisational efficiency, have left a golden glow that lingers. We have all been happily, if only tem-porarily, diverted from the dark shadow of double-dip recession. This has been a welcome relief and respite for the Government as its discredited economic policies flounder.
David Cameron, in a flight of optimistic fantasy and hoping for a reflected popularity bounce, has claimed that the renewed confidence of the Olympic effect will bring about an economic revival. Unfortunately for us all, this is simply soft politics. The hard data tells us the cruel truth that GDP continues to plunge, and economists warn that the prospects of economic growth are 'inconceivable' in the near future.
Of course it is only a matter of time before George Osborne starts to blame the sporting festivities for Britain's economic woes. Not that anyone listens to the man dubbed the worst Chancellor of the Exchequer ever, as he comes up with more and more self-serving excuses for his obsession with unreasonable deficit reduction, and the country sinks deeper into economic and social misery as a result. Commentators argue that he should be reshuffled out of office, but this would be an admission of the colossal failure of the Government's Plan A and is probably a U-turn too far, even for David Cameron.