Denise Kingsmill: Rescuing small business
Banks must contribute to a regeneration fund for small firms - and the problem with Lord Sugar...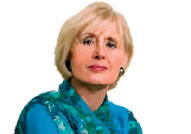 By Christmas, we'll have lost more than 30,000 small firms since the start of the banking crisis. And it seems to be getting worse - the total number of failures to the end of October 2009 exceeded those of the whole of 2008 by 29%. The drying-up of bank credit is largely to blame, despite the huge sums of public money poured into banks and the increasingly desperate exhortations by politicians for more business lending. There are many stories of profitable businesses with solid credit records being refused loans or offered them on such punitive terms as to be usurious. Good businesses are going to the wall unnecessarily as cash reserves dwindle and banks withhold vital credit.
The threat to small business is a serious one for us all. The SME sector is a vital source of innovation and entrepreneurialism and will play a significant part in our economic recovery. The careless and uninformed remarks by Lord Sugar last month ('Disneyworld moaners') betrayed his lack of suitability for the role he has been given to foster small business. Respectful of the institution rather than the man, I would never describe a fellow member of the House of Lords - as some have - as a 'foul-mouthed corporate hobbit', but it is a pity that a more respected businessperson was not appointed to champion a sector that contributes more than 50% of the UK's GDP.
There's no doubt that it was essential to mount the epic rescue of the financial sector that the Government carried out. There were times when the truly nightmare scenario of a complete collapse of the whole western financial system was a distinct possibility. We were lucky that Gordon Brown's international reputation, even if not his domestic one, was sufficiently high for him to be able to give global leadership in this area.