Denise Kingsmill: Sex doesn't sell cars to women
It's time the car industry - and advertisers - realised that women are their biggest customers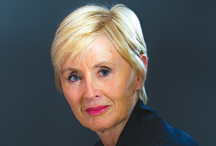 The moment of truth arrived when the hood of my beloved Saab stopped halfway down. I had my four-year-old grandson safely strapped in the backseat, who loved to be driven with the roof down whatever the weather. On cold days I would turn up the brilliant heater, designed to cope with serious Swedish winters, wrap a rug around him and drive home. This time, however, it was truly stuck. A friendly father at the nursery school gate helped me push it down but I realised then it was time to put my 25-year-old workhorse out to grass.
It took a few more weeks before I faced the inevitable fact that, Uber not withstanding, I was going to have to buy a new car. I discussed this with friends and family at length. My children thought I should get something sensible with good safety features, low fuel consumption and a hard top. Friends came up with suggestions left, right and centre.
It was astonishing to me that so many had such strong views about cars. The gender differences were as marked as the generational. The consensus fell somewhere between a Prius and a Porsche, and probably reflected their views of me as much as of the cars.