Denise Kingsmill: Time to take our medicine
While it's too early to say if Osborne's cuts will kill or cure the British economy, we are in a much stronger position than many rivals.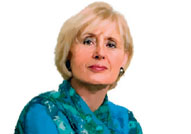 Excuse me one moment while I have a rant. Am I the only one who thinks that there is something profoundly unsavoury about the wolfish gleam in the eye of the Boy-Chancellor as he seeks to impose some of the deepest spending cuts in a generation? The wallpaper heir gives the impression of thoroughly enjoying administering nasty medicine to what you and I may think of as the middle class but which the multimillionaires of the Cabinet probably think of as the poor.
The austerity measures announced in the Spending Review last month may not be as brutal as some were expecting but are likely to most severely affect those least responsible for the global financial crisis which has precipitated them. As the public sector anticipates huge job losses, greater even than those of the Thatcher era, and a retrenchment of front-line services in health, education, the police and justice, the banks are recovering fast, rebuilding their balance sheets and preparing to shell out billions in bonuses. Seemingly immune to public anger, the banks' lending to business is shrinking as loan approval rates for SMEs fall sharply. Despite being the beneficiaries of huge amounts of state aid to enable them to weather a crisis of their own making, the banks are conspicuously failing to do their bit to help the economic recovery. The Coalition may rage but the banker boys are calling the shots as much as they ever did.
There, I feel better for getting that off my chest, so now for some glimmers of good news. The main one is that it could be worse; we could be Greece. Or France. So far we haven't had armed police using tear-gas to quell rioting strikers and students in our streets and national monuments. It is surprising how stoical most people are being in the face of rising unemployment, slowing economic activity and real reductions in income and standards of living. Perhaps the tactic of trumpeting the need for immediate and harsh measures to cut the 'massive' deficit and preparing us for the worst means that we are grateful when it turns out to be merely bad. However the endless predictions of doom and gloom, which sap consumer confidence and risk becoming self-fulfilling prophecies, do real damage.