Denise Kingsmill: The Tories' blind spot
If the prime minister wants to win back female voters, he will have to do a lot more to tackle inequality in the workplace, and not only in the boardroom.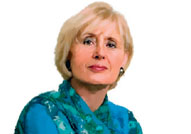 Denise Kingsmill will chair MT's Inspiring Women conference on November 27, 2013 - click here to find out more.
David Cameron has a woman problem. The polls tell him that he is losing the support of women in droves and his response is to announce that, in future, the eldest child of the monarch may succeed to the throne, even if a girl. Well, that should really do it for the female electorate ...