Denise Kingsmill: The vital role of boards
A dynamic and positive boardroom is crucial to British businesses that want to reinvent themselves and grab new opportunities.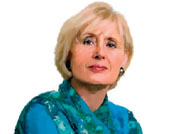 Towards the end of last year, the Financial Times ran a series of photographs of empty boardrooms, with an accompanying article by columnist Lucy Kellaway in which she described them as representing, among other things, 'isolation, pomposity, uniformity, complacency and, above all, extravagance'. Lucy has a quirky take on business, but in this view she could not be more wrong. Fill those empty rooms with the leaders and directors of the companies concerned and they are transformed into busy, dynamic places where real decisions are taken. These are places where groups of mostly talented and committed people with a common focus settle down to consider a range of big issues, and endeavour to get them right on behalf of the company.
I have been a non-executive director on the boards of public and private companies for more than 20 years. With only a few exceptions, I have found them to be positive places where constructive conversations take place about the business and its shareholders, employees and customers. There can be conflicts and strong opinions are expressed with vigour. The boardroom is not a place for shrinking violets or those who cannot fight their corner, but, usually, with the guidance of a good chairman, consensus is achieved.
Whether challenging or supportive of management, most directors have as their goal good governance, progress and growth. Which is why, even in these difficult times, pessimism is not the mood in most boardrooms. There is certainly a recognition of the difficulties of doing business at the moment, together with a hard realism about the chances of emerging unscathed from the economic crisis. But this is coupled with pragmatism and determination. For companies that have the search for growth as part of their DNA, the seeking out of new opportunities, markets and ways of doing business is an instinctive response; part and parcel of a survival mechanism that clicks into place during tough times.