Desperate Woolworths looks to BBC for salvation
BBC Worldwide could offer Woolworths a £100m bail-out. Might raise a few licence-payers' hackles...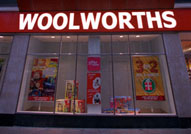 Woolworths' shares were suspended again today, after the retailer admitted it was in talks to sell its 40% stake in its DVD publishing arm to joint venture partner BBC Worldwide, Auntie's commercial arm. The move is part of a broader deal to raise cash and save Woolies from administration – the group has a debt pile of £385m, but its share price has now sunk so low that its valuation is a mere £18m. But we suspect many people will find it a little odd if the BBC (albeit its commercial arm) ends up bailing Woolies out...
The sale of 2entertain, the 60/40 joint venture that publishes Top Gear DVDs and the like, is not the only deal Woolies is trying to cut at the moment. The planned rescue package also involves selling its 800-store retail business to restructuring specialist Hilco for a nominal sum (which will then presumably be placed into administration), while keeping its profitable wholesale distribution arm in public ownership. The management will be reluctant to give up 2entertain, given that it actually makes money, but Woolies' situation is now so perilous – its debt pile is huge, its share price has plunged to almost 1p, and its pension fund is £100m in the red – that needs must. And the situation with BBC Worldwide ought to make a deal relatively straightforward.
However, nothing involving the BBC is ever that straightforward. In purely practical terms, BBC Worldwide still has to do all its due diligence – it looks to be getting the stake at a knock-down price, but it still has to do all the sums. It then has to get the decision past the BBC Trust, which won't necessarily be easy. Apart from anything else, there are bound to be people arguing that the BBC, as a semi-public body (via its licence funding) should not be getting embroiled in this kind of situation, or splashing out nine-figure sums on risky commercial deals (albeit the three-month suspension of Jonathan Ross will presumably cover most of the cost).