Diabetes to cripple NHS budget within 25 years
Stat of the day: £16.9bn. Diabetes will swallow up £16.9bn of the NHS' budgets by 2035 as the number of diabetics in the UK continues to rise.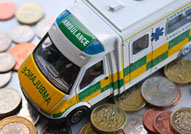 As though NHS budgets were not already taking a battering, the soaring numbers of diabetes patients in the UK will soak up £16.9bn of the service's annual budget. The number of diabetics is expected to top 6.25 million by 2035, according to a study conducted by the York Health Economics Consortium. The consortium, which is part of York University, called the problem 'an unfolding public health disaster', which could overwhelm the health service.
It is not only the health service that will be affected though. The research also looked at what the problem will cost the wider UK economy. When loss of working days, early deaths, and the cost of non-hospital care are included, the UK will lose £39.8bn per year to the issue by 2035-36. As far as the working public are concerned, deaths from the disease or complications arising from it in 2010-11 cost the economy 325,000 working years.
It seems health bosses are presented with new difficulties every week, and tackling diabetes goes on a growing list of things to be do with a shrinking budget…