Diageo champagne on ice as LVMH denies Moet sale
Luxury goods group LVMH says it's not selling its stake in Moet Hennessy to Diageo. At least not yet.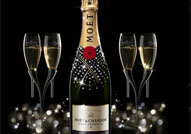 A report in today's Telegraph suggested Diageo was plotting a €12bn bid to buy out LVMH's 66% stake in Moet Hennessy, the high-end drinks group that the two companies jointly own – but LVMH has moved to quash the rumour this morning. In a statement, the luxury goods group said that it 'formally denies… that it is negotiating the sale' of its Moet share. Then again, since the report specified that no approach had yet been made, this denial doesn't really amount to much – and some sources are suggesting that LVMH is very much open to the idea…

Diageo (Britain's Most Admired Company, lest we forget) has been working with its bankers at Goldman Sachs on a bid for several weeks, according to the Telegraph, although they apprarently haven't actually mentioned it to LVMH yet. Moet, the wine and spirits division of the LVMH empire, saw revenues drop 3% to €3.1bn last year, but it's still thought to be worth upwards of €10bn. And if you're wondering how Diageo expects to raise that kind of cash in the current climate, the suggestion is that it would flog some extra shares to fund the deal. So there could be some potentially fat fees for the City (well, for Goldman at least).

With many luxury brands suffering from a fall in sales during the downturn, the markets seemed to welcome the idea that LVMH might be able to flog its Moet stake for a decent price. After falling by almost a third this year, the company's ailing stock jumped 5% yesterday as the rumour swept the trading floors. Unfortunately for investors, most of those gains have been lost this morning following the formal denial – but perhaps we shouldn't write it off just yet. After all, nobody said LVMH was negotiating a sale – at least not yet – and the FT reports today that the French company may actually be willing to sell some or all of its stake (assuming the price is right, presumably).

Although the sale would certainly free up some cash for LVMH (or LV, as it would presumably be called thereafter), the rationale for Diageo may seem less obvious. But the recent fall in sales will almost certainly be a temporary one; this could turn out to be a textbook case of a cash-rich buyer picking up a good asset at a time when it's under-valued. And with champagnes like Moet & Chandon, Veuve Clicquot, and Dom Perignon in the stable, Moet Hennessy definitely fits in with Diageo boss Paul Walsh's stated aim to snap up more premium brands. He'll just have to hope that the French government doesn't decide that MH is a strategic national asset and block the whole thing...


In today's bulletin:
Darling hikes top tax rate as Government borrowing soars
Unemployment and borrowing soars - but IMF backs down
Editor's blog: Hello, Darling, want a new motor?
Diageo champagne on ice as LVMH denies Moet sale
Quadruple your money - give it to a teenager