Diageo hailed as Britain's Most Admired Company
Drinks giant Diageo has won the coveted title of Britain's Most Admired Company 2008, in MT's annual poll.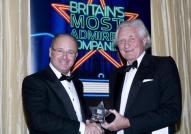 Drinks major Diageo has won the coveted title of Britain's Most Admired Company 2008 in MT's annual poll. At the awards ceremony last night at Claridge's, Diageo's CEO Paul Walsh accepted the award from Lord Heseltine, chairman of Haymarket Media. The ceremony was the best attended for years, with no fewer than 27 CEOs and chairmen from the UK's Most Admired Companies. Top gongs were also collected by Johnson Matthey, Unilever, BSkyB, Stagecoach and Tesco.
The audience was addressed by Vince Cable, the Liberal Democrats' treasury spokesman and deputy leader. Described by Matthew Gwyther, MT's editor, as one of the few heroes of the crunch and crash so far, Cable recalled the lessons of business he learned as a young economist while working at Shell: namely the importance of understanding and trying to predict cycles and not allowing yourself to get over-geared.

Matthew Gwyther said: 'The Most Admired awards have now been with us for 16 years and are here to stay. Their success is due to the fact that British business takes them with the utmost seriousness because of the unique way in which they are conducted. The research is an academic exercise conducted by Professor Mike Brown of Nottingham Business School – the result is not decided during a hokey carve-up by interested parties in smoke-filled rooms.'

Most Admired is a true peer poll of those that matter. That means that the winning companies have gained the respect of their severest critics – the competition. Competitors may be harsh judges but they are also the people most aware of rivals' strengths and weaknesses. If one firm can dominate the thoughts of its peers it must be doing something right. Especially in this difficult time.