Diageo looks beyond UK for booze bonanza
Drinks sales in Africa, Asia and Latin America provide much-needed cheer for Diageo's annual results.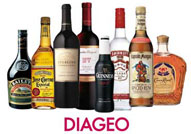 Diageo boss Paul Walsh had reason to be cheerful this morning: the drinks giant unveiled a 12% increase in pre-tax profits to £2.24bn for the year to the end of June. The firm, whose brands include Guinness, Johnnie Walker and Smirnoff, said that growth was driven predominantly by an increased thirst for its brands in Asia, Latin America and Africa, which now comprises about a third of its business. Things aren't quite so rosy in the UK and the US though, where sales continue to lag behind. And with wheat and barley prices heading north, Diageo sales closer to home are likely to remain flat for the time being.

Overall, it was definitely glass half full stuff for Diageo today. Profits were up 12%, with sales up 5% to £9.9bn; the more modest rise in sales suggests that rather than putting prices up, the company's restructuring programme to remove £120m of costs from the business has been having the desired effect. Although it has brought problems of its own: earlier this year, the firm announced plans to close a bottling plant in Kilmarnock and the Port Dundas distillery in Glasgow, causing outrage amongst staff.

But it's sales in developing markets that have really put the fizz into Diageo's figures, with the firm seeing strong growth in Asia, Latin America and Africa. Speaking exclusively to MT, Walsh told us that this part of the business 'is doing great - these economies are flying'.

This helped offset a more sober performance in the UK and the US. Even a 20% increase in marketing spend in the US couldn't prevent overall sales falling 2% in the last year. 'The US is anaemic,' Walsh told us. 'You see a bit of growth but it's not really knocking the ball out of the park.' He described Europe as being 'quite a mixed bag' and blamed the continued economic travails in Greece and Spain for Diageo's flat performance. And he didn't sound too hopeful for the future either. 'It's still a dangerous place out there,' he warned.

Speaking of which - adding to Walsh's woes is the Government's proposal to implement a minimum price per unit of alcohol, after local schemes in Manchester and Middlesbrough were deemed a success. As you'd expect, he doesn't think a national roll-out of the scheme will curb the problem of excessive drinking. 'There is no evidence that price is an effective mechanism to combat abuse. The people who wish to abuse alcohol will always find a way to procure it, whatever the price,' he said. He also claimed it would impose an unfair tax on the '98% of the rest of the population who consume alcohol responsibly.' We'll drink to that.

In today's bulletin:
Nadir for SFO as Polly Peck tycoon comes back to face the music
Diageo looks beyond UK for booze bonanza
What Arthur Scargill has in common with Neutron Jack Welch
Survey in 'cold calls are annoying' shock
Letters from Malawi: The NGOs doing more harm than good