Diary of a startup: Doigs of Troon
Jamie Doig-Wilson continues his tale of reviving the old family business. In part two of his start-up story, he takes us from Christmas 2011 through to spring 2012.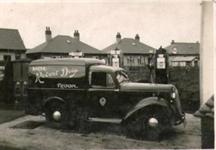 At the end of our first few months, and still working on the full-time day job in media, the additional hours every evening and weekend were beginning to take their toll. I retired back to the confines of the Scottish motherland for a deserved rest over the tail end of the festive period. It was good to remind myself of where the business stemmed from, and of the beauty and surrounds of my home town of Troon. The short break gave me time to plan ahead. Inspired by my surroundings and reinvigorated, I was ready for the journey back South. Indeed on returning to London and as we entered 2012, I was full of optimism and ready for a major sales drive.
To secure a market 'pitch' on a near-permanent basis would require commitment throughout the year. Rocking up on the first cold Saturday in January at Greenwich Market, I was determined that we would secure our spot. However, the reality of winter sales periods (effectively outdoors) is much harsher than I imagined. Competition among casual traders mean you have to get there bright and early, all wait at an allotted spot, and then catch the eye of the market manager to allow you the chance to trade. Everyone suddenly wants to fill the equivalent role of teacher's pet, brazenly flirting, eyelids a-flutter, or just being overly 'matey'.
Since our produce falls between the worlds of market food to go, and market gifts, there is not always an obvious site where to locate us. Not slotting in to one category or the other would prove useful flexibility, both at Greenwich and in terms of markets who would consider letting us trade. Every market though seems to have its own rules about exclusivity of, number of directly competing, and artisan contribution to food products.