What a difference a decade makes: Tesco's boss Terry Leahy 10 years ago
FROM THE ARCHIVE: First published in 2004, this interview with former Tesco CEO Sir Terry Leahy gives a fascinating insight into the corporate life cycle.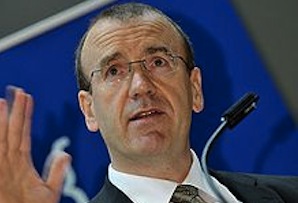 With a £250m hole in its accounts and shareholders baying for boardroom blood, Tesco 2014 has hit a new low. By contrast, 2004 Tesco was right at the top of its game, super-confident, relentlessly customer-focused and apparently unstoppably profitable.

And yet perhaps even then some of the future cracks were showing. As Leahy's immediate successor discovered, taking over when everything seems to be going well is a thankless task.

At least that's one problem that Tesco's beleaguered new boss, David Lewis, doesn't have to worry about...