The difficulties of Darling's banking bonus super-tax
Even if the Chancellor does goes ahead with his banker-bashing bonus tax, how would it actually work?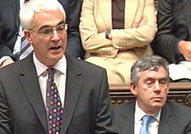 It sounds like Chancellor Alistair Darling will announce a windfall tax on the banks in Wednesday's Pre-Budget Report, probably targeting bonus pay-outs. Since the economy wouldn't have been in this state without the banks' excesses, and since the massive profits they've been racking up this year are entirely due to government intervention in one form or another, it's perfectly reasonable in principle. But even if you ignore the industry's standard howls of protest about the damage to the UK's reputation as a place to do business, the awkward fact remains: how will it actually work in practice?

The bankers aren't happy, of course: the British Bankers Association is moaning that the move will damage the City's competitiveness, and lead to some City high-fliers decamping to a more benign tax regime. This may not seem like an unappealing prospect per se, but the theory is that it would weaken the banks and hurt the overall tax take. (Boss Angela Knight also suggested that the banks didn't cause the housing bubble – but last time we looked, you couldn't get a 125% mortgage for a house you couldn't afford from B&Q). Other critics argue that any revenue generated would be a drop in the ocean relative to our £800bn debt.
But really, this isn't about the money: it's about hammering the people responsible for getting us all into this mess (it may well be true that many of those in line for big bonuses now are not the same people who got it wrong in the boom years – but as far as the electorate is concerned, bankers are bankers). And there are perfectly valid arguments for such a move. The only reason some of these banks are still around is because they were propped up with taxpayer cash, and the only reason they're making so much money at the moment is because of government intervention in the markets (in the form of low interest rates, quantitative easing and so on). The sector's had a disproportionate amount of state support, so why shouldn't it shoulder a disproportionate tax burden?

However, even if that's true, we still don't see how this bonus tax would work. There's some talk of a levy on anyone who earns a large proportion of their annual income in a single month, but surely the banks would just start spreading out their payments? (while advisers would make a fortune from convoluted avoidance schemes) There's presumably also a chance that it might turn out to be illegal, on discrimination grounds. And would it only apply to banks, or to all those other firms in and around the financial services industry who have similarly profited from the bail-out?

A direct windfall tax on bank profits sounds far more straightforward, but the Government is apparently petrified about eroding the banks' capital positions. So once again, Darling finds himself having to choose the least-bad option…

In today's bulletin:
The difficulties of Darling's banking bonus super-tax
Record online sales bring Christmas cheer for retailers
Editor's blog: Mandelson's Cadbury sabre-rattling
Amazon vouchers up-for-grabs in our online survey
MT Expert's Ten Top Tips: Use your data to improve customer service