Dig out the generators - blackout risk at six year high
The government is under fire as the National Grid warns the threat of power blackouts is dangerously high.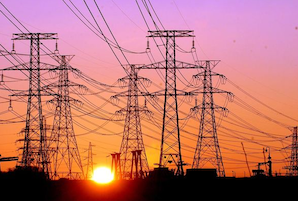 Those of us bracing for another cold and dark winter could be facing an even darker winter than imagined: the National Grid has revealed the risk of winter blackouts is the highest it has been for six years.

The organisation said energy demands could shoot up to 95% of supply if last year's cold snap comes back for another winter. With just 5% spare, that wouldn't bode well for the UK.

Business groups have been quick to react to the news, questioning the government's energy strategy and warning of the potential damage to businesses, should the lights grow dim, nay, go out.

'We have short-term planning at a micro level coming out of our ears,' John Longworth, director general of the British Chamber of Commerce told The Telegraph.

'We have an absence of long-term planning on infrastructure and that includes energy. There is a real risk this could start hitting the economy and growth over the next 10 years.'

The UK's energy companies have used the news to argue for greater investment in long-term energy solutions, such as new energy plants – something Ed Miliband's proposed energy price 'freeze' could pull the plug on.

Should the worst happen this winter, the UK's power stations might not be able to meet demand – therefore causing the National Grid to intervene and force some of the UK's largest energy users to cut their usage (it has the power to force factories to shut down completely to save power in emergencies).
Another possible scenario is that old, uneconomic (and not exactly eco friendly) gas stations could be dragged back into service to plug the gap - but it's only likely if the price of gas goes up enough to make it economical or the government steps in and offers its operators subsidies.

Ofgem has been taking the threat seriously for some time – in June it revealed incentives for shops and factories to ration electricity on winter evenings from 2015 (perhaps we need to bring that date forward a tad).

According to the National Grid, it doesn't know the probability of the worst-case scenario happening, but said we're skating on thin ice.

The safety margin for electricity is 'tight and perhaps more uncomfortable than we might otherwise wish to be,' according to Richard Smith, of National Grid. He tried to reassure that the body is seeking to make better use of 'tools' to increase supply.

The reduction in the generation of coal power has been partly blamed for the shortfall. Electricity from coal and oil-fired power stations has fallen by a fifth in the past year to comply with EU emissions targets. To cope with demand, experts say we need to invest in flexible gas plants to cover the shortfall from renewables like wind when necessary. But power companies aren't interested in running these without subsidies – operating a plant part time isn't good business sense.

'This issue should not be ignored,' warned Angela Knight, chief executive of Energy UK.

'The reserve margin is getting quite tight. Renewables require back-up power generation to be built. But the economics for building gas plants are not there.'

Capacity mechanism subsidies are due to start in 2018 to support these back-up plants but it could prove too late. Centrica has called for government to bring this date forward to 2016. If the government doesn't take the warnings from energy companies seriously, they could they wind up scrambling around in the dark - blind man's bluff is a dangerous game.