Digital Idiot Abroad - can our editor learn to code in a day?
Decoded promises to teach anybody to code a website or app in a day. Analogue throwback Matthew Gwyther went along to see if it was really possible.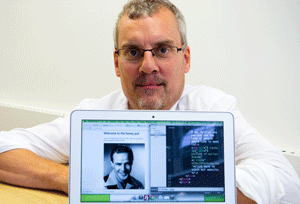 In the land of the digitally challenged I'm right up there with Cro-Magnon man. Back in 1985 I was quite happy with my Amstrad 8256 but lost the plot not long afterwards. When my computer 'says no', I rarely have the ability to respond with anything more than a panicked squeak.
I have the MT Towers IT helpdesk first on my speed-dial and if they gave airmiles for each hour of assistance they dispense I'd be spending every weekend in Nassau.
So when an invitation came from Decoded for an MT member to learn how to code and build a website in a day, every finger in the office naturally pointed to Mr Web Minus 0.8 - the editor.