Is digital product placement the future of advertising?
Advertisers want to engage more deeply with content - and ad technology firms are coming up with innovative ways to help them do it.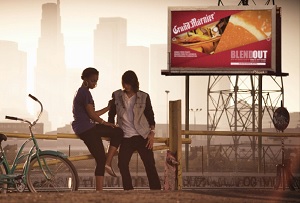 'Native advertising' is one of the most talked about concepts in media and advertising circles nowadays, as brands fight to be heard over all the noise and get themselves in front of the eyes of consumer. What it means in a nutshell is integrating advertising with media content, like TV shows, websites or music videos in a seamless way, so it doesn't really look like an ad at all.
Consumers are growing increasingly savvy about avoiding ads, whether it's fast-forwarding through them with their Sky+ box or turning the speakers off when listening to songs on Spotify. For this reason, advertisers and content producers are looking for new ways to engage viewers.
Product placement is nothing new, but in the past it has generally been a bit of a faff, with space sold ad hoc and agreements having to be finalised before content is made. But now UK-based ad technology firm Mirriad is allowing brands to arrange for their ads to be placed within video content - after it has already been produced.