Have dinner with Leighton and Rose on the LSC
Enjoy Allan Leighton's On Leadership dinner next week, courtesy of The Learning & Skills Council...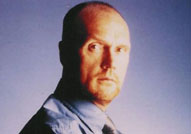 Next Thursday sees a brand new event in the business calendar: Allan Leighton's On Leadership charity Gala Dinner in London, where the Royal Mail chairman and three other corporate bigwigs – M&S chief Sir Stuart Rose, Ann Summers boss Jacqueline Gold and former BUPA CEO Val Gooding – will discuss the challenges of leading from the front. And the good news is that if you're a small or medium-sized business, you can get a grant from the Learning and Skills Council that will pay for the whole thing...
The LSC is sponsoring Leighton's On Leadership dinner to promote its 'Train to Gain' programme, which encourages SMEs to invest in staff training. So if you have fewer than 250 employees, you can apply for a £500 grant to attend leadership events – including this one. Better still, if you want to get a few more of your team along, you can chip in an extra £500 and the LSC will match that with a further £500 – meaning that you'd have £1500 to spend on tickets. Six for the price of two, in other words.
What's more, it won't just be your leadership skills that benefit as a result. The dinner is being held in aid of Breast Cancer Care, for whom Leighton has pledged to raise £1m. 'It's essential that smaller businesses have access to skills training and support,' says Leighton. 'So I'm delighted that the Learning and Skills Council are getting behind the Gala Dinner and offering business leaders the chance to attend.'