Dio Mio! Italian bonds break 7% barrier
Looks like Berlusconi's grand gesture didn't work: investors are getting increasingly worried about lending to Italy.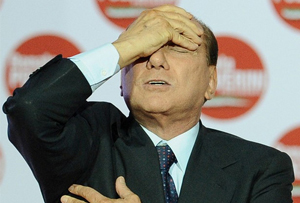 If Silvio Berlusconi was really resigning, as he put it, 'for the good of Italy' (not sure he appreciated how true that statement actually was), then his plan has been foiled: yields on 10-year Italian bonds hit 7% this morning – the magic number at which most economists reckon countries are in need of a bailout. This is all thanks to the actions of one clearing house, LCH.Clearnet, which sent yields spiralling upwards after it demanded higher deposits to trade Italian debt. So it looks like there's going to be another bailout – although with an economy the size of Italy, things won't be quite as, er, straightforward as they were with Greece.

Bond yields are surprisingly simple things: the less investors trust a country to pay back its debts, the higher the yield (or interest rate) the country has to pay on its debts. Obviously, at some point, lending to the country in question will become unfeasible for investors, and they'll go on strike. For Italy, which is expected to have to borrow €362bn (£309bn) next year simply to pay off the interest on its €1.8tn debt, that would be bad. Very bad indeed.

A 'brave' move, then, by LCH.Clearnet, which increased the margin (aka deposit) it requires to cover the risk Italy won't be able to pay back its debts (looking very likely now). The clearing house pushed its margin up from 6.65% of the sum trade to a whopping 11.65% - a rise of 75%. For shorter loans, the rise was even higher – the margin for one-year loans increased from 2.45% to over 7%. Obviously, that's raised the cost of trading Italian debt significantly, making it less and less attractive a prospect for investors.

Thus, a bailout attempt looks increasingly likely. The trouble is, though, that although the European Financial Stability Facility has bailed out nations like Ireland and Greece (twice) in the past, it's never attempted anything on the scale of Italy, the eurozone's third-largest economy. At the moment, the EFSF has a mere €250bn (of its original €440bn) in its piggy bank, barely enough to service Italy's debt for a single year, even assuming it stopped borrowing tomorrow. In all probability, the answer lies in a combination of its newfound power to guarantee or insure loans (as agreed by eurozone leaders a couple of weeks ago. Remember those heady days?) and begging, borrowing and stealing from cash-rich developing economies.

The problem is, of course, that all of this will take a couple of weeks to sort out – as markets descend into chaos. Makes you yearn for the simpler days of the to-ing and fro-ing over a Greek bailout, really, doesn't it?
- Image credit: Flickr/segnaleorario