Directors pass the buck to senior managers
Deloitte reckons senior bosses have taken a bigger pay hit than their immediate superiors on the board.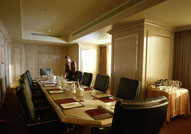 There may have been considerable pressure on big public companies to pay their senior staff less this year – both from a financial and political perspective – but a new analysis by Deloitte suggests it's not the top brass that are suffering the most. The accountancy reckons that although lots of executive directors have seen their pay frozen this year, most will end up taking home more or less the same amount of money as last year – whereas at the next level down, senior managers have seen their total pay cut by 8%. Doesn't exactly sound like 'collective responsibility', does it?

Executive directors haven't been ignoring the external pressure entirely. More than two-thirds haven't had a pay rise in 2009, according to Deloitte, while 41% were expecting salaries to remain frozen next year too. So these big companies are not entirely ignorant of the need to show restraint on pay (and given that relatively few will have delivered much value to shareholders lately, they can't complain too much). In this respect, senior managers are slightly better off: a smaller proportion (about 45%) have had their salaries frozen this year, with 35% expecting this to continue into 2010.

However, we imagine the notable point for senior managers is that they seem to be paying a higher price than their immediate superiors, in terms of total take-home pay. Most tend to get smaller bonuses in the first place – usually around 75% of salary, compared to 125% for directors – and these figures suggest they're also getting a smaller proportion of their possible total (since directors' pay has remained flat and theirs hasn't). On the other hand, directors tend to have a bigger proportion of their bonus deferred, so it depends how you look at it.

It's always hard to read too much into these surveys, because the data set contains such a wide variety of different arrangements (in terms of contracts, incentives, and so on). But on the face of it, this does look like directors effectively forcing senior management into pay cuts that they're unwilling to accept themselves – and in the current climate, the perception is arguably just as important as the reality. That's particularly true at a time when many are imposing even more stringent cuts on those lower down the food chain - some of whom would presumably argue that both of these groups are still getting off way too lightly.

In today's bulletin:
Asda kicks off Christmas retail price war after latest sales hike
Has Ian Livingston stopped the rot at BT?
Are UK firms being ripped off by insolvency practitioners?
Editor's blog: Do nurses need to be graduates?
Directors pass the buck to senior managers