Are directors worth it?
Many FTSE 100 boards are not fit for purpose, according to new research by board advisory firm Armstrong Bonham Carter. It says shareholders should be doing more to evaluate the effectiveness of their directors – or they could end up out of pocket.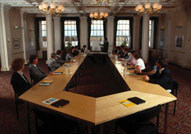 The problem is, apparently, that the workings of most FTSE 100 boards remain opaque to shareholders – not a single one has objective success measures in place. That means the only way to evaluate directors is to judge them by the success of the strategies they come up with – by which time it's probably too late to do anything about it.
'Chairmen and their boards always claim they are effective,' said partner Tom Bonham Carter. 'However, we have unearthed strong evidence to the contrary'. Apparently, 12% of the FTSE 100 would have produced a better return simply by investing in cash. And 40% produced returns lower than the FTSE index as a whole (though surely that's inevitable, given that the index is an average?)
It also found that nearly a quarter of chairmen have no direct experience of the relevant industry. Some might see this as a good way to import good practice from other disciplines, but ABC suggests it could be 'a significant risk to the leadership of the company'.