Discount deluge doesn't deliver for high streets
Consumer spending has soared this year, but retailers aren't feeling too festive.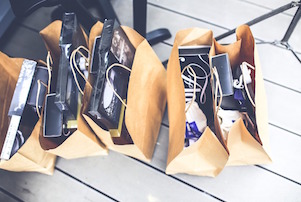 Christmas might be for giving, but retailers are starting to take fright. Consumers are splashing the cash but it hasn't translated into particularly impressive festive trading on the high street.
New Barclaycard research found the level of spending in 2015 rose in every category it measured apart from fuel – where prices have dropped considerably thanks to the global oil rout. Yet consumers continued to 'penny-pinch' on groceries and clothing even though prices fell.
While the total number of transactions rose 8.3% in the 11 months up to November 21 compared to the same period a year ago, the amount spent per transaction dropped 4.1%. Discount stores continue to draw in the crowds – spending at them grew by 12% and volumes were up 18%. People may be spending more, but it hasn't done enough to lift a lacklustre Christmas period for traders.