Discounts can't get any deeper, say retailers
With margins already squeezed right down, retail marketers are being forced to look beyond discounting.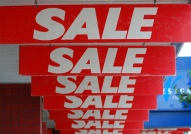 There have been some bargains to be had this year, for those with money to spend: retailers have been slashing prices in a bid to keep punters coming through the doors. But according to a survey by retail specialists Mohive, six out of ten reckon they've cut prices as much as they can, with discounts of up to 40% on offer. So in order to keep up the footfall, they're now having to come up with new ways to woo cash-strapped customers...

The retail marketers polled by Mohive admitted they'd been cutting prices this year: discounts of around 20% across the board seemed to be about the average, although some said they weren't going as far as that and a small proportion suggested they'd reduced prices by up to 40% (and that's assuming they told the interviewers the unvarnished truth). However, the majority seem to think they've gone as far as they can with this: only 40% were considering further discounts (probably either the ones doing very well, or the ones doing very badly).

For years, discounting has been the most common way for retailers to attract custom; the worse things got, the bigger the discounts. But having spent the last year paring profit margins right down to the bone, some marketers clearly don't have that option any more. So they're having to get more creative. For instance, they're spending more money on in-store promotion - designed to make the shopping experience more pleasant, even if the final bill isn't.

These straitened times are also forcing retailers to re-think their approach to advertising. Rather than the bog-standard TV ads, sponsorship deals and PR, some retailers are now concentrating on direct marketing or promoting themselves via social networks. In a falling market, it helps to have as many advocates as you can muster.
So the bad news for customers is that in most cases, prices are not going to get any lower. The good news for business is that the slowdown in discounting is likely to produce some innovative, low-cost ideas – which could in the long run turn out to have a much better return on investment.

In today's bulletin:
Can rail electrification save the planet?
Dave Carroll takes broken axe to United Airlines
How the public sector is wasting £11bn a year
Discounts can't get any deeper, say retailers
Female CIOs in Canada shatter the glass ceiling?