Dishonesty and the best policy
Thinking of popping out at lunchtime for a spot of Christmas shopping? Don't bother. Chances are someone will pinch it, the insurance company will refuse to pay for it, and you'll be too broke to buy anything but dried fruit as presents for your family this Christmas.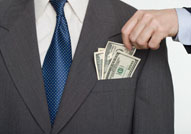 Or at least that appears to be the cheery festive message from insurance broker Caunce O'Hara. In what may be one of the most tenuous (yet apparently effective) Christmas-related publicity-seeking attempts to land in our inbox for many a year, the broker has sent us a release warning of the dangers of buying presents for your loved ones, and then leaving them in the office to avoid prying eyes.
Entitled 'The hidden cost of shopping on your lunch', the release gloomily points out that your insurance policy might not cover you if light-fingered colleagues or contractors or cleaners waltz off with that nice arran jumper that you've bought for your Uncle Keith.
Highlighting the innumerable ways insurance companies find to avoid paying out, the broker points out that your company's policy may only cover effects up to a value of £500, and may not even apply at all if they're based on some kind of 'forcible and violent entry condition'. So the only viable solution is: don't buy any presents at lunchtime – and if you really must, keep it cheap. Forget Prada, head to Primark instead.