The dismal decline of WHSmith
FROM THE ARCHIVE: Once a much-respected brand, the newsagent and bookseller is now better known for its shabby shops and rip-off prices. How long can it keep squeezing profits out of falling sales and disgruntled customers?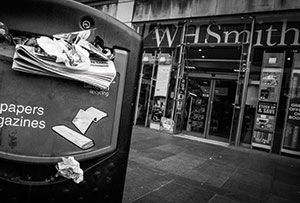 The continuing success of WHSmith is a perfect riposte to all those management gurus telling you that all businesses need fans instead of customers, and purpose above all things.
The store, which dabbles in everything from books and magazines, stationery and chocolate, furniture to toys, has been voted Britain's worst or second worst high street retailer for nine straight years, in a poll conducted by consumer watchdog Which?
Yet despite the fact that it is widely mocked for its poor quality shopping experience (of which more shortly), it continues a) to be nicely profitable, earning £134m before tax last year off £1.26bn revenues; and b) to grow like-for-like sales, year after year.