Published: 29 May 2019
Last Updated: 20 Aug 2020
The continuing success of WHSmith is a perfect riposte to all those management gurus telling you that all businesses need fans instead of customers, and purpose above all things.
The store, which dabbles in everything from books and magazines, stationery and chocolate, furniture to toys, has been voted Britain's worst or second worst high street retailer for nine straight years, in a poll conducted by consumer watchdog Which?
Yet despite the fact that it is widely mocked for its poor quality shopping experience (of which more shortly), it continues a) to be nicely profitable, earning £134m before tax last year off £1.26bn revenues; and b) to grow like-for-like sales, year after year.
It's a remarkable alchemy developed under Kate Swann, CEO from 2003 to 2013, and perfected under her successor Stephen Clarke, who will himself step down in October: invest in the lucrative travel division (think airport and train station Smiths), and mercilessly squeeze costs from the high street division to extract maximum profits (the carpet budget being a famous casualty of this strategy).
The magic shows no sign of faltering: WHSmith's share price is nearly double what it was in 2014, at £19.93.
In the feature below, originally published in 2015, Matthew Lynn explores how WHSmith stopped trying to be the beloved high street brand it once was and started a remarkable business turnaround.
---
Torn and frayed carpets, either grey or faded blue. Bits of half-eaten sausage perched among the bottles of water. Leaking roofs and flooded basements. Trolleys stacked across the aisles. Exposed electric wires threatening to take out your toddler. Christmas magazines prominently displayed in mid-June. And yet more torn carpets.
There are many ways that businesses can use social media to build their brands, but there are also ways that social media can bite back, and there is no account with sharper teeth than the @WHS_Carpet Twitter feed.
---
Sign up for Management Today's daily bulletin for top insight, analysis and business stories
---
To follow it is to be transported into a world of disorganised, tatty stores, filled with stuff that either you do need but don't want to pay rip-off prices for, or bizarre objects that appear to have been ordered in out of pure malice, all laced with the exasperated sarcasm that comes naturally to anyone unfortunate enough to wander into a branch of WHSmith. 'Who would be driving up the M1 and decide: 'Oh I had better pull into the services and buy a wooden duck,' complains one tweet.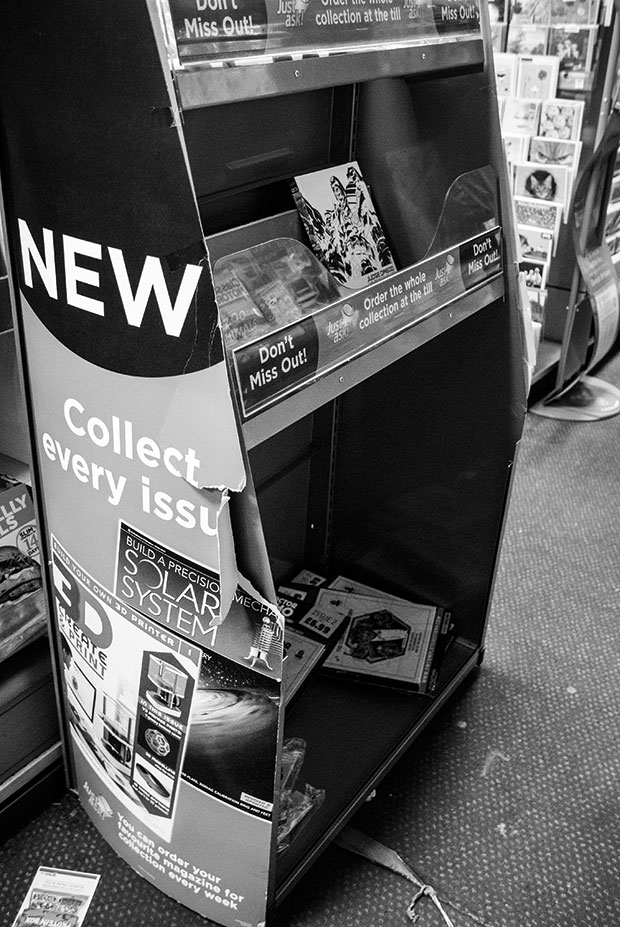 Shabby shop floor: torn carpet and messy merchandise in the Elephant & Castle WHSmith. Credit: Julian Dodd
It is a good question. WHSmith is one of the UK's oldest retail brands, and was once one of its most respected. It was a much-loved part of every British high street, a place where you went to buy your new pencil case before the start of a school year, where you might get the latest bestseller, or a record or DVD. But in the last few years it has gone through a terrible transformation: it has become the poster child for short-term penny-pinching management, destroying its brand to keep the shareholders happy and the executive bonuses rolling, while sacrificing its medium-term chances of staying in business. Can WHSmith defy gravity forever, and keep its profits relentlessly rising even as its sales decline? Or is it about to get found out, and suffer the same grisly fate that has overtaken many other high-street names?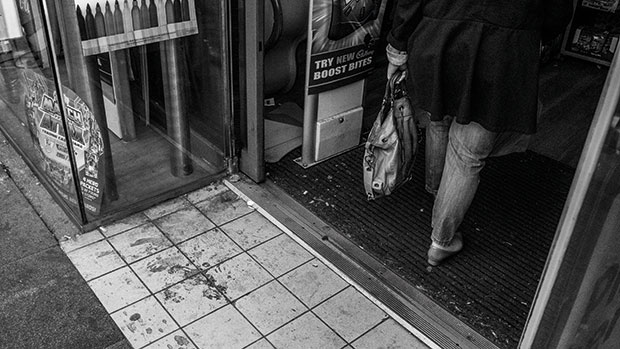 Not exactly a warm welcome: the entrance to the WHSmith store in Brixton. Credit: Julian Dodd
Only John Lewis and M&S ever had the same kind of trusted brand as WHSmith. The company dates back all the way to 1792, when Henry Walton Smith opened up as a news vendor in Little Grosvenor Street in London. But it was his son William Henry who added the WH and turned it into a national force. It was the world's first chain of shops, riding the mid 19th-century railway boom to sell books and newspapers to the new class of travellers - its first station outlet was opened at Euston in 1848, and it very quickly rolled out the format across the whole country.
The Smiths were classic Victorian entrepreneurs: smart, ambitious and upwardly socially mobile. The second William Henry drove the business relentlessly, and then became a Conservative politician, ending up as First Lord of the Admiralty. On his death, his widow became Viscountess Hambledon, a title that has remained in the family ever since. The Smiths carried on running the family business until the 1940s, when death duties forced them to gradually sell shares, although there was at least one family member on the board until the mid-1990s.
They were tycoons who could work out how to take advantage of rapid social and economic change: railways, mass-market books and newspapers were the internet of their age. Over much of the last century, it was a powerfully innovative retailer. It pioneered the ISBN system for labelling books, moved into do-it-yourself, acquired Waterstone's when it was still expanding, launched one of the first cable TV stations as well as owning a stake in Yorkshire TV, and owned the publishing company Hodder Headline. Not all its diversifications worked out. But it was constantly expanding and experimenting with new ventures.

Piles of box files stacked by a stark and unmanned checkout in the Elephant & Castle store. Credit: Julian Dodd
But in the last decade, it has abandoned that heritage, becoming a defensive business, more interested in squeezing the last profits out of what it has inherited than anything else. In the last five years, sales have been in steep decline. In 2010, total sales were £1,312 million, but by 2015 that figure had fallen to £1,178 million: its Travel group, which includes station and airport shops has grown steadily, but its High Street division has been falling sharply. And yet, curiously, profits and dividends have risen as if nothing had happened. Total profits were up from £89 million in 2010 to £123 million in 2015. Dividends have risen from 19.4p per share to 39.4p over the same period. The share price has risen in tandem, up 241% to 1,688p in the last five years. At the same time, executives have been extravagantly rewarded. The last CEO Kate Swann collected £9 million after leaving in 2013. Her successor Steve Clarke was paid £2.4 million in cash and other benefits last year, while the finance director collected £2.2 million.
It is not hard to work out why sales have fallen. WHSmith is the UK's biggest book retailer, but since the debut of the Kindle, physical book sales have been in freefall - and it is the popular, mass-market paperbacks sold in WHSmith that have been hit hardest. Newspapers and magazines? No better. The company's core business has migrated to digital. The interesting part of the story is how it has pushed up profits in that period. How's that possible? The company claims it has made efficiency savings. To others, however, the explanation is far simpler. It has ruthlessly under-invested in its high-street shops, while pushing up prices on most of its range, and tempting customers in with massive chocolate bars sold for a quid. It has worked so far, but only by creating a horrible shopping experience.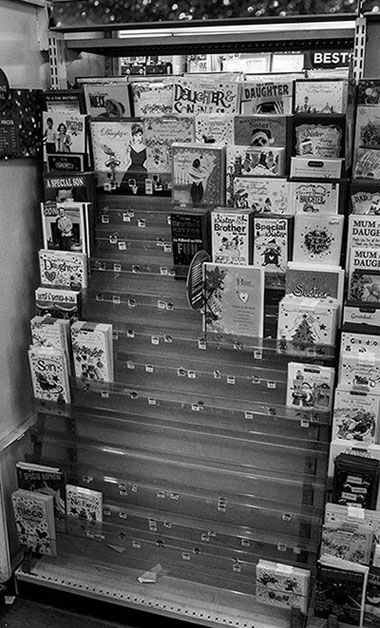 Racks of cards left half empty in the Brixton store. Credit: Julian Dodd
The @WHS_Carpet Twitter feed is one manifestation of that. 'The reason this was started was of general amusement - the carpets were in a bad way and some of the stores were beyond dreadful. What started off as a bit of a laugh soon escalated as it became clear that many customers and staff members were equally alarmed by the declining state of what used to be a high-street favourite,' says the founder of the feed, who understandably wishes to remain anonymous. 'I've been pleasantly surprised by the interest in what is a horrifically niche Twitter feed, but I think it just resonates with folk who have fond childhood memories of it but are now disturbed by how much staff cuts and cost-saving measures have turned WHSmith into an anti-retailer.'
Clarke, who declined to be interviewed for this article, appears to have noticed. 'We have 615 stores and we have a lot of lovely stores,' he told the Evening Standard in 2013. 'The ones highlighted on Twitter were earmarked for new carpets already. We have a very high footfall and a very high carpet turnover.'
Well, perhaps. To most retail experts, however, the Twitter feed is a better indicator of the state of the business than anything Clarke says. 'They deserve a lot of credit for the way they have navigated a very difficult period,' says Neil Saunders of the retail consultancy Conlumino. 'WHSmith is one of those retail propositions that could easily have disappeared, but they have managed to keep it going. The problem is that at some point it is going to turn. The stores are really quite shabby. There is competition from pound shops - Poundland is basic, for example, but it is at least clean and well laid out, and often better than Smith's.' It is not just the state of the carpets. The prices often appear outrageous as well. When it emerged that airport shops had been demanding to see boarding passes so that they could re-claim VAT while not passing those savings onto customers, inevitably WHSmith was one of the guilty companies. Over the summer, an investigation by The Times and BBC found it was charging nearly double high-street prices for some items at its hospital shops. One charged nearly double for a card, while a bottle of Evian water cost £1.69 compared with 99p at a regular shop nearby. Paula Sherriff, the Labour MP for Dewsbury and Mirfield, led a campaign against the chain, and eventually forced it to lower its prices. 'It feels like exploitation of a captive audience,' she argued. 'Patients may be on a drip, or in their pyjamas - they may not have the choice to go anywhere else.'
'Of course, companies can tweak prices according to location,' says one shareholder. 'But it is about caring for the brand. If they feel ripped off in one place, they won't shop at your other outlets unless they have to. They keep trashing the brand, but they don't seem to realise that at the end of the day the brand is all you have.'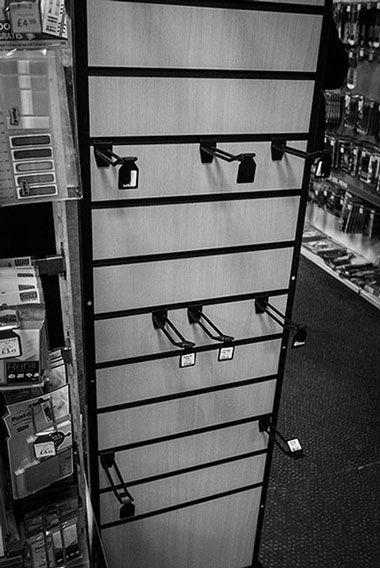 Empty display rack in the Elephant & Castle store. Credit: Julian Dodd
Very true. It didn't have to be that way. The alternative for WHSmith was Paperchase, says Saunders. 'It could have become a much more upmarket, premium proposition, with high-quality stationery, and perhaps bookshops with cafes and so on. But that would have required more investment and re-ordering the estate.' Alternatively, Card Factory has built a very successful chain, offering value for money. WHSmith meanwhile charges premium prices for a shoddy product.
'For me, the game plan seems to be: run down the high-street estate as and when leases lapse; cut staff levels back to the bone; implement usurious pricing and focus on the travel locations where they can absolutely coin it in,' argues Twitter's Mr Carpet. 'If I was a shareholder, I'd be hugely impressed. As a shopper, I feel exploited and disappointed.' WHSmith is pursuing a scorched earth strategy. The executives are doing well, and so are the shareholders. But a fine company is being trashed. By the time anyone wants to rescue it, it will be too late.
This article was originally published in October 2015