Disney buys Star Wars maker Lucasfilm
A long time ago in a galaxy far, far away... Or rather, yesterday in the US, George Lucas signed over Lucasfilm to Disney boss Robert Iger. 'It's now time for me to pass Star Wars on to a new generation of film-makers,' he said.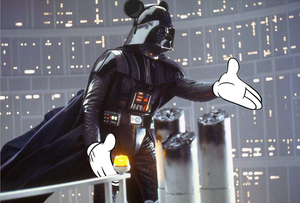 Disney and Star Wars have joined forces in a cash and shares deal worth $4.05bn (£2.5bn). Lucasfilm now joins Pixel, Marvel and ESPN in the Disney stable - and Lucas walks away with enough money to build several Death Stars, as he owns 100% of Lucasfilm. He will also become one of Disney's largest shareholders, with a stake worth around $2bn.
Disney has already released a statement announcing its intent to release episode seven of the Star Wars saga by 2015, followed by episodes eight and nine and then a movie every two to three years thereafter. The news was met with a mixture of delight and derision by Star Wars fans. 'When you wish upon a Death Star?!' says film publicist Gwynne Dixon. While actor and comedian Simon Pegg suggests, 'The Endor Book' for the next episode of the series over on Twitter. That, or 'Snow White and the seven Uganauts'.
It's not surprising that Disney is keen to get in on the Star Wars franchise. It's proved hugely lucrative so far, generating $4.4bn at the box office alone. And there's 'substantial pent-up demand' for a new film, reckons Disney. It's a real coup for chief executive Iger: this is his third multi-billion dollar acquisition to date and both the Pixar and Marvels deals, worth $7.4bn and $4bn respectively, have been a roaring success.