Disney to kill the DVD? You must be taking the Mickey
Disney wants to reinvent the way we own films with a multimedia subscription service.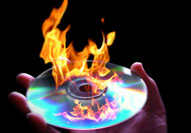 Disney is usually seen as the ultimate in traditional childhood fare. But the corporation is, with little fanfare, dipping a toe in the high-tech video on-demand market. It's gauging interest in a technology, code-named Keychest, that it believes could be the future of the way we own films.
DVDs have been a core of the Hollywood business model for over a decade, after ousting the equally revolutionary video cassette (remember them?). But DVD sales have dropped off spectacularly of late. Disney's recent quarterly operating loss - its first in four years – may not be entirely unrelated to this fact.
The problem is that in an increasingly online world, DVDs are more and more out of place. They get scratched, you have to carry them around, you can't play them on your mobile or i-Pod. But downloading content online isn't all that great either – it can be slow, and expensive, and movies take up so much space that they won't fit on many portable devices.