Disrupting gender stereotypes
What Works is a must-read manual for promoting gender equality in the workplace - where you can really make a difference and where you can't.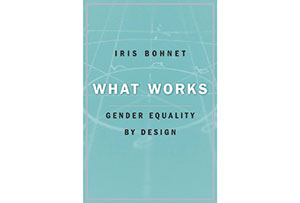 For those who think that gender inequality in the UK is just a pipeline issue that will surely resolve itself in time, What Works may come as quite a shock. As chapter one says, 'unconscious bias is everywhere', affecting even those who are trying hard to avoid it.
If you don't believe it, take 10 minutes to empty your head and try out https://implicit.harvard.edu/. I found myself splutter in disbelief as I carried out this Harvard test. I am a mother of twin girls and recently returned to work, while my husband does his stint of our shared parental leave. I am a firm believer in gender equality. Why oh why therefore was I tripping up in this rapid-fire test that asked me to associate men's names with family words and women's names with career ones?
Rather depressingly, Iris Bohnet points out that 'unlearning' our biases is 'basically impossible'. But this book is not about being judged - 80-90% of our brain apparently works unconsciously. Nor is it about raising awareness or ridding people of bias. Despite $8bn being spent every year on diversity training by corporations in the US, Bohnet suggests such courses are unlikely to change attitudes, let alone behaviour.