Does Clegg have the x-factor?
So the Lib Dems have finally got themselves a new leader – but can Nick Clegg really make them electable?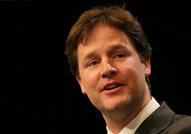 In the second highest-profile vote of the week, Clegg narrowly triumphed over rival Chris Huhne to claim the top job – though unlike Saturday's X Factor final, the favourite actually won (albeit only just). Clegg, who describes himself as 'a Liberal by temperament, by instinct and by upbringing', now faces the challenge of reviving his party's fortunes after a dismal couple of years, in which Charles Kennedy was forced out due to his fondness for a wee dram, and Ming Campbell was forced out due to his rapidly-approaching old age. It's no easy task – with the Tories' star apparently in the ascendant again, he'll have a hard job convincing the public that his party is the most viable opposition to Labour.
Born to a half-Russian father and a Dutch mother, married to a Spanish woman and having spent a decade working in Brussels, Clegg's pretty cosmopolitan by the standards of most politicians – he speaks about 346 languages and hangs out with film directors in his spare time. He's had also the best education money can buy: exclusive public school Westminster, followed by university in Cambridge. And unlike most young politicians these days, he's actually had a proper job – at least, if being a journalist, lecturer and Eurocrat actually counts as such…
As yet we have very little idea what his policies on business are – as with most leadership elections, the contenders didn't get too bogged down with that boring policy stuff. But we do know that he made the Munich front pages when he was 16 after being arrested for a 'drunken prank', which involved setting fire to a rare collection of cacti. We're not sure what the plants did to deserve that, but maybe the Lib Dems should dig out the lock they used to have on Charles Kennedy's drinks cabinet…