What does your desk say about you?
'Novelty Ninny', 'Sticky Note Addict' or 'Hoarder? A questionable press release has all the answers.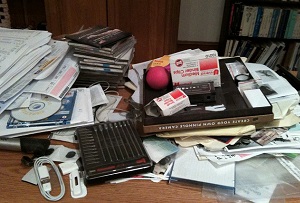 An interesting email landed in MT's inbox yesterday. The press release from Officebroker.com claimed that 'researchers' had identified 'seven distinct groups' of office desk 'personalities'. Quite why researchers would be doing such a thing isn't clear, although it's probably safe to assume the results won't be forming the basis of a PhD thesis, especially given that it fails to spell out any of its methodology.
'Numerous sticky notes and growing piles of paper can say more than you might think about you and your colleagues,' said a mysteriously nameless spokesperson from the company. 'While your desk may seem like your own space, desk habits can influence how you conduct yourself with co-workers and can become annoying.' Insightful.
The seven personality types predictably include 'The Neat Freak', who is 'highly organised but also quite uptight', and the 'Novelty Ninny' (the proper scientific name, of course) which 'loves animal-shaped stationary, humorous mugs and mini table-top snooker.'