Does management have 'immutable laws' like science?
The 'management physics' analogy really caught on. But does it make any sense?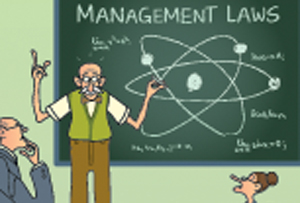 There's an old academics' joke that goes: why are economists jealous of physicists? Because the physicists have three laws to explain 99% of phenomena, while the economists have 99 laws to explain 3% of phenomena.
Management is much more like economics than physics, being to do with the behaviour of people, not things. Unfortunately, this doesn't stop management theorists or practitioners succumbing to physics envy. One of Jim Collins's bestselling books actually claims to reveal the 'immutable laws of management physics'. In other words, follow these rules and you will be successful, just as the earth will continue to orbit the sun. Seductive, but highly dangerous.
Management isn't physics, for many reasons. One is that success in management is relative, not absolute. Consider, for instance, another management concept, Blue Ocean Strategy. This is a good idea, provided you are the only one who has it. But once everyone has got hold of it, it becomes self-defeating. As soon as the smallest patch of 'blue ocean' appears, it becomes the most hotly contested area of the whole market.