Does the UK have an R&D problem?
New research shows domestic R&D spending halved between 2007 and 2015.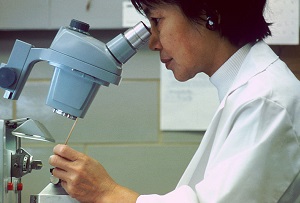 Ever since Britain stopped being the workshop of the world, it's been worried about the decline in its manufacturing sector. Instead of making things, we're performing services with things other people have made. Despite the obvious prosperity that's come from having a world-leading service-based economy, it strikes some as having a less firm foundation.
These days, the concern has widened from how many tractors our factories churn out to levels of innovation and quality, whether that be in electronics or pharma or indeed software - and clearly that depends on R&D. It could furrow some brows therefore to learn that Britain's domestic R&D spend by business declined by 52% to $3bn (£1.5bn) between 2007 and 2015, according to the Global Innovation 1000 Report by Strategy&, part of the PwC network.
British firms are, it seems, spending their research money abroad rather than at home, with R&D exports (i.e. conducted abroad for British companies) rising from 67% to 80% of total corporate spend. To make matters worse, the overall amount spent on R&D by British firms fell by 23% over the period to $14bn, bucking the otherwise upwards global trend.