Where does the word board (of directors) come from?
WORDS-WORTH: Is a board more than just a piece of dead wood?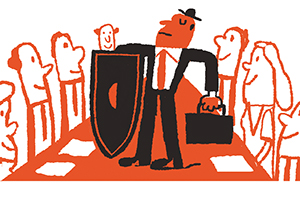 If you find yourself thinking there's a lot of dead wood at board level, remind yourself that it's only natural. A board is dead wood. Historically, from the 16th century, a board was a table around which important meetings took place. The name then shifted from the furniture to the important people who sat around it. 'Board of directors' is first recorded in 1712. The word 'board' itself is much older, with a complex history going back at least three millennia. In Old English it meant a plank and a table but also a shield: strong and useful, as a board should be.