Doing management the wrong way
In the UK, the supposed panacea of good management has proved to be a chimera. The country has been training managers in the discipline of managing for decades, but very little good has come of it.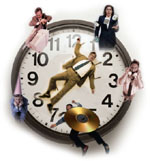 If one looks at the public and private sector one sees more bureaucracy, greater intensification of work in which fewer people have to cope with downsized operations to deliver greater shareholder value, while the public sector is not improving in spite of huge cash injections and the UK falls behind Germany, the US and France in productivity.
According to the National Audit Office, the public sector in the UK spent £7 billion on consultancy in the past three years to little effect.
Management itself has become the problem. The reason for the failure is complex. In a nutshell, it is because the UK has been following the wrong way of doing things and constantly trying to get it right. But as the systems and management theorist Russell Ackoff said: "The righter we do the wrong thing, the wronger we become. When we make a mistake doing the wrong thing and correct it, we become wronger. When we make a mistake doing the right thing and correct it, we become righter. Therefore, it is better to do the right thing wrong than the wrong thing right."
The wrong thing managers have been doing is central planning, a command-and-control management model reminiscent of the Soviet Union. On top of this essential wrongness are a host of service companies and consultancies from IT to PR who reinforce the model with their own additions and refinements.
The error began in business schools where academics took their cure from the 'dismal science' of economics in which the individual is seen as economically motivated and opportunistic. Whilst this gives a deterministic edge to the discipline of management, it is based on an erroneous view of human beings as rational agents.
As the late Sumantra Ghoshal pointed out, this view is more appropriate for an organisation managing disciplined criminals and psychopaths than a group of well-meaning individuals. In this worldview, companies need hierarchy and control to prevent individuals from exploiting the organisation for their own ends, and they need incentives and sanctions to make sure they do what they are supposed to.
But in reality, organisations are driven better by values of teamwork and cooperation. The danger is that not only is the command and control approach wrong, the continued application of it can start to change social attitudes and create the reality it believes in. "Thus the evidence is that managers who assume their workforce is composed of self-interested opportunists and treat them accordingly - with tight controls and sharp sanctions - eventually turn them into just that."
Source:
Too many chiefs?, Simon Caulkin, RSA Journal, February 2007
Review by Morice Mendoza