Domino's Pizza grabs slice of Swiss market
The pizza delivery chain continues its march across Europe, paying £4.4m for Domino's Switzerland, and eying up Poland and Austria.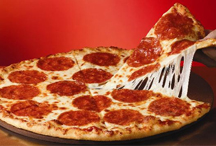 Domino's Pizza is counting on the Swiss liking their cheese with a thick crust and plenty of topping. The pizza delivery chain, which has 748 stores in the UK, Ireland and Germany, is planning to open 25 stores in Switzerland over the next five years and is also believed to be eyeing up opportunities in Austria and Poland.

The Swiss franchise already has 12 stores, and Domino will open another 25. With internet use in Switzerland high, the company believes it can drive online growth similar to the way it has done in the UK, boosting orders through mobile phone apps and Facebook pages.

Domino will pay an initial five million Swiss francs (£3.3 million) for the right to operate in Switzerland, Liechtenstein and Luxembourg, as well as an option on stores in Austria. Another two million Swiss francs (£1.3 million) has also been put aside depending on the performance of the 12 stores over two years.

Domino acquired the German franchise in April 2011 and the firm has never looked back. 'The encouraging progress we have seen in our first 16 months in Germany has convinced us this opportunity is one not to be missed,' CEO Lance Batchelor said.