Donald Trump got hacked
The big-haired business magnate and political sensation admits a breach at his Trump Hotels division. Does anyone know where to find the world's smallest violin?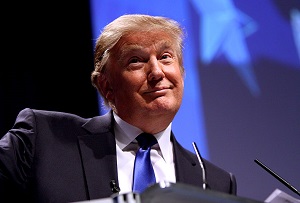 Hacking's not funny. It's really not. But Donald Trump getting hacked kind of is. The business mogul and US presidential hopeful – who refers to himself in the third person and whose utterances on Syrian refugees ('if I win, they're going back'), Mexican immigration ('they are bringing drugs, and bringing crime, and their rapists') and of course women (just take your pick) leave rather a lot to be desired – admitted a cyber security breach last night.
This is where it gets less funny. The breach affected customers in his Trump Hotel Collection (THC) business, who made credit card purchases at some of Trump's hotels between May 2014 and June this year. The company said that malware buried within the payment system may have accessed personal and card data over that period, but that external investigators found no conclusive evidence that this data was actually taken from the system by the hackers.
While it's possible that the perpetrators were motivated by Trump's eyebrow-raising (and at times eye-watering) political campaign, it's much more likely to have been driven by old-fashioned greed. The hotel industry is just one of many that's suffered from a distinct rise in highly organised cybercrime over the last few years - and the problem is likely to get worse before it gets better.