Don't believe everything bloggers tell you
The US has launched a crackdown on marketers that use endorsements or fake viral campaigns...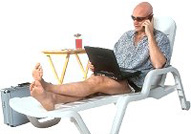 Endorsements from celebs or satisfied customers have long been a favourite tool of marketers. But US firms are going to have to tread a lot more carefully from now on, after the Federal Trade Commission published new guidelines on how companies can use testimonials and endorsements to promote their products. It's the first time the rules have been updated since 1980, so much of the new policy inevitably focuses on the brave new world of online word-of-mouth and social media advertising. The FTC is keen to stop bloggers making overblown claims about a particular product, or companies creating fake grassroots viral campaigns (aka 'astroturfing'). Although how they're going to police this in practice remains to be seen…

The new rules mean that anyone who endorses a product – be it a celebrity, a blogger or just your average man on the street – must declare any compensation received from the company. What's more, if they make false or unsubstantiated claims about a service or product, they might get taken to court. For example, if a celebrity claimed an anti-ageing skincare cream reduced wrinkles when it didn't (the effect might have more to do with Botox), both they and the company could be held liable to the tune of up to $11,000 (though we're guessing that's a drop in the ocean when you're earning $30m per film, right?)

The new rules – which are guidelines rather than law – mark a noble attempt to prevent what's known as 'blogger payola' – where writers get some kind of payment or freebie to write about certain products or services. These have become more common in recent years, as companies have realised the power of online marketing. And it'll also force firms to 'fess up if the apparently spontaneous 'grassroots campaign to bring back X' turns out to have been the invention of their PR company. All of which is perfectly admirable – after all, consumers presumably don't want to be misled by advertisers; and the more openness, the more trust.

That's not to say these ideas have gone down well across the board. Some people have been moaning about constraints to freedom of speech; claiming that the US government has no right to tell people what they can and can't say online (even if it is misleading, and they're being paid to say it). This sounds a bit mealy-mouthed to us, but the more salient question is whether the plan is workable. The FTC has said that it is planning to 'keep tabs' on social networking sites – but is it really likely to fine the average Twitter user for a flippant 140-character comment? And how on earth will it keep tabs on all this stuff? Though these practical difficulties don't make it a bad idea per se, of course...

In today's bulletin:
Tesco bounces back - but denies Rock bid
Tories take Route 66 on retirement debate
Don't believe everything bloggers tell you
Osborne courts entrepreneurs with NI holiday
Christmas service could make or break retailers