Don't you believe it: Persistence pays
It is deeply ingrained in most of us from earliest childhood that persistence is an essential ingredient of success. But is it? Here's a cautionary tale.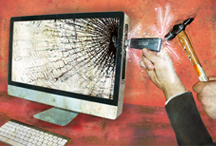 Once upon a time, there were a hundred idiots who all set out to become rich by doing idiotic things. Ninety-nine of them soon failed and were never heard of again, but the 100th, by pure luck, became very wealthy. He then started a lucrative second career as a motivational speaker, telling people how they too could get rich quickly.
The logical error at work here is called survivor bias and fortunes have been made from exploiting it. But you cannot weigh up your chances of success on an 'it worked for me' or 'it worked for someone I know' basis alone. You also have to know how many others tried the same thing and failed.
Persistence can be a good thing if it is persistence towards an end, rather than persistence with a course of action. Thomas Edison famously needed 3,000 experiments to develop the lightbulb, but they were all different, not the same experiment repeated 3,000 times.