Don't you believe it: 'Risk is a bad thing'
Too many people who ought to know better seem to regard risk in business as an intrinsically bad thing.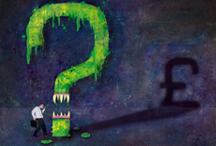 And yet business without risk would be like cooking without salt, or life without sex. Risk is simply possibility, and without possibility there is, or very soon will be, no business. It should be understood and embraced rather than shied away from.
However, once you get outside the financial markets, risk management seems to mean simply risk avoidance. Plans are frequently de-risked, but how often do we ask for someone to increase the risk in a proposal? And yet a de-risked project is going to be a boring project, a project that will deliver at best mediocre results.
The trouble with assuming that risk is at first sight dangerous is that we may manage to reduce it to the point where we eliminate it altogether, and with it the chance of achieving anything. Even if things don't get that far, we pass up the opportunity to exploit and manage risk in a positive way.