Don't be a donkey's head
Don't let the crisis panic you into drastic measures - leave Mafia methods to the pros.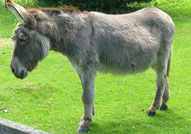 Downturn leads to many things: long faces, empty order books and a tradedown from the beef and horseradish to the egg and cress sandwich at lunchtime. It also will inevitably mean the exacerbation of the late payment problem as companies fight to preserve cashflow. Here at MT we don't recommend going to the lengths of a couple of small time Mafiosi in the town of Villafranca Padovana near Venice who were anxious to collect their illicit dues.
The gang grew increasingly frustrated with Antonio Gemetti, a local bread shop owner who steadfastly refused to cough up the protection dough to the guys in spats carrying violin cases when they came in for a panini. The next thing Snr Gemetti knew was the arrival of a severed donkey's head at his shop, sent by the men of honour in a very low-rent impersonation of the famous episode from The Godfather. (The nag in the movie was a prized stallion which wound up nestling next to its film producer owner in bed.)
Snr Gemetti, greatly to his credit, was unmoved, and continues to knead his dough. 'The man didn't know the donkey, he didn't own the donkey, he doesn't care about donkeys,' said a police spokesman in Villafranca. 'It didn't make sense. It was the work of idiots.' Let's hope the culprits are soon sleeping with the fishes in the Venetian lagoon.