Don't expect a bigger pay cheque next year
Here's a cheery thought: apparently we'll all be worse off next year, with salaries rising below inflation.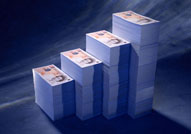 If you thought that 2010 might herald an end to pay freezes, a return to conventional bonus structures, and a bit of purse-string-loosening after the penny-pinching year we've just had, then think again. According to a new report from global management consultancy Hay Group, pay hikes – if they come at all – will rise at a slower rate than the cost of living next year. Which means that we'll actually be feeling worse off than we have been in 2009...

Hay's frankly depressing report (which is based on its analysis of underlying trends and a database of more than 575,000 salaries across 84 UK organisations) claims that pay rises for UK workers will average 1.6% next year – 2% in the private sector, and a measly 1% in the public sector. But inflation is likely to outstrip that: the Consumer Price Index is still climbing at around 2.5%, while tax hikes are also likely as the Government tries to balance the books. Throw in a weaker pound, which will push up import prices, and the cost of living could soar.

But this isn't just about staff being forced to delay that Lamborghini purchase for another year. It could also have a big impact on retention and morale, which in most organisations is already at a pretty low ebb. And it's not just the money: staff are also having to work harder, with two-thirds working over and above their contracted hours. On average, we're all putting in an extra six hours a week (which is basically like working Saturdays), at a time when more than a quarter of us have endured a pay freeze. No wonder more than a third of UK employees claim to be unhappy in their jobs.

Companies are clearly struggling to maintain engagement levels as they ask staff to do more for less, so managers face a huge challenge to make sure that their people feel valued. Otherwise they might end up losing them – if not now, then certainly when the job market starts picking up. Companies planning another year of pay freezes or modest rises need to think hard about the positioning, because it's going to be a very hard sell.

In today's bulletin:
Government's RBS bonus balls-up
Google looms large over property websites
Kingfisher profits fly - thanks to a bit of DIY
Don't expect a bigger pay cheque next year
A Traveller's Tale: Dubai's Financial Mirage