Don't be greedy, be succeedy
With the City under the cosh, could this be the moment when social enterprise really takes off?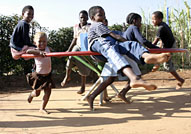 Next up in Enterprise Week is Thursday's Social Enterprise Day, intended to inspire and promote business ideas that have a social or environmental impact – as well as making money. According to research from Make Your Mark, 56% of the population reckon that the ideas and drive of entrepreneurs can help resolve global issues like conflict, climate change, poverty and disease – not to mention the meltdown of the international financial system…
Thursday's flagship initiative is the One Water project, intended to raise awareness about the 1bn people around the world who lack access to clean water. It will involve teams of young people selling bottled water, recycling the bottles and plugging the issue within their local community, with all the proceeds going to fund water projects overseas. Every group will be trying to raise enough money to buy at least one PlayPump, a nifty new invention which utilises the motion of a children's roundabout to pump up water from a borehole, supplying safe drinking water for a whole community.
Thursday will also see the launch of the second 'Make Your Mark with a Tenner' campaign, in which 20,000 young people are given a tenner (courtesy of Dragons' Den star Peter Jones and Bebo's Michael Birch) and have one month to make some kind of social and financial impact. You might think giving young people an 'Ayrton Senna' and expecting to see it ever again sounds like a Baldrick-esque plan – surely they'll just fritter it away on new mobile ringtones? But Make Your Mark's Oli Barrett (who came up with the idea last year) says not – apparently the scheme managed a 4100% profit last time round. 'Underestimate the younger generation at your peril,' he insists.