Don't let hedgies scupper Cadbury, says CBI's Lambert
The CBI boss reckons short-term investors should have their voting rights curtailed. It's a fair point.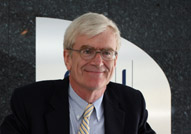 A further twist to the long-running Cadbury/ Kraft saga: after the possible emergence of Hershey and Ferrero as rival bidders pushed up Cadbury's share price this week, CBI director-general Richard Lambert has waded into the mêlée: he's not happy that short-term investors (mostly hedge funds) are buying up Cadbury stock just so they can profit from a takeover battle. In such cases, he says, these investors may not have the long-term best interests of companies at heart when voting on a potential takeover. It's a difficult point to argue – though whether his intervention will be enough to help Cadbury, or any other takeover target, remains to be seen...

Lambert's far-reaching proposal is that investors who have owned company shares for less than six months should be unable to vote in takeover battles. He told The Times that it's all about proper stewardship – he finds it 'unsatisfactory' for the long-term future of a company to be decided by hedge funds whose investment horizon is measured in days and months rather than years. The takeover battle for Cadbury – 'a company with a strong record and prospects', he says – is a case in point.

Lambert has a good point. The hedge funds who have bought into Cadbury lately are, in many cases, only really interested in selling out at a profit to the highest bidder – regardless of the long-term strategic prospects of the deal as far as Cadbury is concerned. And they won't care about the fact that more and more famous British companies are falling into foreign ownership – a trend that Lambert says has been accentuated by the compliance of these increasingly short-term investors. 'I'm not advocating national champions or wrapping the national flag around things, but ownership of British companies has been more affected by the influence of short-term traders than [companies in] any other country,' he told the Times.

We're inclined to agree, but Lambert is opening a big can of worms here. Betting on the results of a takeover – arbitrage, as they like to call it – has been an activist shareholder tactic for years. Curbing voting rights would be a much bigger constraint on hedge funds than any of the measures currently being proposed in Brussels – and it's also quite hard to see how it would work unless lots of other countries agreed to the idea too. So realistically, it's going to be a tough argument for Lambert to win.

In today's bulletin:
Nationwide slams Government as profits plummet
Don't let hedgies scupper Cadbury, says CBI's Lambert
Editor's blog: Bolland can slay the sacred M&S cows
Male entrepreneurs use social networking to get ahead
MT's 35 Women under 35 - and Carolyn McCall - hit LK Bennett