Don't let just a few people hog the decision-making
The Wisdom of Crowds shows the benefit of gaining the opinions of a wide range of people.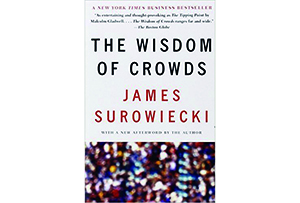 American newspapers sometimes provide long headlines, which reveal the guts of the story. The subtitle of this book, written by an American journalist, was a good example: 'Why the many are smarter than the few and how collective wisdom shapes business, economies, societies and nations.'
It's a helpful summary. Surowiecki argues that 'all of us are smarter than one of us', and that if you can gather and interrogate many voices, wisdom and insights will appear. In the pre-social media, pre-web 2.0 world this thesis was radical and ahead of its time.
Wise crowds display diversity of opinion, independence of members from one another, and decentralisation, Surowiecki said. You also need an effective way of aggregating opinions.