'Don't let Kraft steal your company', says Cadbury
Cadbury attempts to sweet-talk shareholders into rejecting the bid from the American food giant.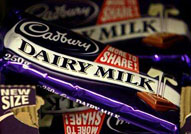 It's been a while coming, but Cadbury has finally started fleshing out its defence strategy against the £9.8bn hostile bid from US business Kraft. In a strongly-worded plea to shareholders today, chairman Roger Carr accused Kraft of trying to 'buy Cadbury on the cheap'. The UK firm has also raised its sales and profit targets for the next four years, in the hope of persuading shareholders to vote against the sale – and just to be on the safe side, it's also been fluttering its eyelashes at US-based Hershey. With the shareholder vote due on January 5, it's not before time…

As you'd expect, Cadbury's formal defence document contains a strong rebuttal of the Kraft bid, with some scathing quotes from Carr: 'Don't let Kraft steal your company with its derisory offer,' he growls in conclusion. But the UK firm knows it'll take more than that to win over shareholders – hence the sweetened targets. It claims that by remaining independent, it can deliver organic revenue growth of 5-7% a year, with improved margins of 16-18% by 2013. This would mean that shareholders could expect juicy dividends as early as next year: Cadbury is promising double-digit growth in investor pay-outs from 2010. Tasty.

Of course, Kraft's offer hasn't been all bad for Cadbury. The speculation about possible counter-bids has pushed its share price almost 40% higher than it was when the US firm entered the fray. And it does seem to have smoked out some other potential suitors: fellow confectioners Hershey and Ferrero have both started sniffing around the company, according to reports, with US-based Hershey (which already makes some Cadbury products under licence in the US) particularly strongly linked. Cadbury is refusing to comment, saying only that it's had expressions of interest from 'other parties' – but it wouldn't be a surprise if it's trying to line up Hershey as a possible white knight.

The only problem is that even if Hershey does seem a better fit for Cadbury, it might not fancy getting involved in a protracted bidding war with Kraft – particularly if the price gets anywhere near the 850p a share that Cadbury is supposedly looking for. So persuading its shareholders of the value of independence might still be its best bet – or else continuing to butter up Lord Mandelson. Some nice Christmas selection boxes, perhaps?

In today's bulletin:
Dubai bailout boosts UK - as our deficit nears £100bn
'Don't let Kraft steal your company', says Cadbury
Bankers and accountants a drain on the state, says think-tank
Flights of fancy in the office
MT Expert's Ten Top Tips: Build trust in your organisation